The anti-corrosive properties of the metal spraying process are widely recognized in the shipping and marine industry, where steel super structures and vessels are subjected to very damaging corrosion from the sea and salt laden air of the world's shipping and fishing industries.
In five separate projects, Chorro Naval has metal sprayed a variety of shipping components with pure zinc. On a Spanish tuna fishing boat they metal sprayed the inside of the tunnel and the fishing hold with a zinc aluminium alloy (85/15). On two trawlers, built in a Vigo shipyard and destined for the Faroe Islands, Chorro Naval metal sprayed all external areas of the boats with zinc. The external areas of a Danish patrol boat and an oceanographic  Spanish ship were also sprayed with pure zinc. The final ship the 'Ronja Polares', a Norwegian fish carrier, was also metal sprayed at the Vigo dry dock, which is fully kitted out to accommodate restoration and metal spraying work. The external areas metal sprayed during these projects included the hull, all external decks, superstructures, the bridge, mast and chimney. Prior to metal spraying, surfaces of the ship's components, both internal and external, were shot blasted to Standard SA 2.5 to clean and prepare the surface.
This case study is courtesy of Metallisation.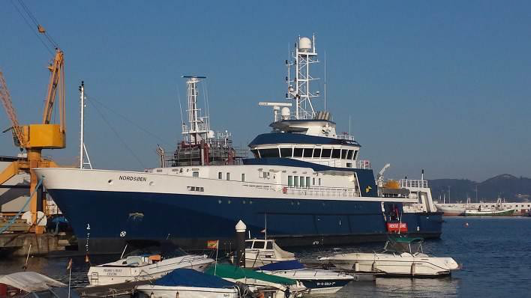 Parkol Marine Engineering, based in Whitby, has recently applied a thermal sprayed zinc coating to a new whitefish trawler, the Resilient LK195, to protect it from corrosion.   At  the same  time as the Resilient was being coated, the 26m single rig whitefish trawler, the Guardian Angell LK272, was back at the Whitby boatyard for a refurbishment. The effectiveness of the zinc coating process can clearly be seen to the rear of the Guardian Angel where the trawl doors are brought back on board. Despite extensive paint damage, the robus thermal sprayed zinc base layer clearly remains and continues to protect the hull from rust.
Prior to zinc coating and painting of trawlers, the surface is grit blasted to SA2.5 cleanliness and a profile of around 75 microns. Within four hours the zinc coating is then applied which instantly cures. Finally, the zinc is then sealed and finished with several coats of marine grade paint.
This case study is courtesy of Metallisation.